Hi There!
Another beautiful day to explore the new Stampin'Up! catalog. And look what I got today. The new Woven Heirloom Bundle. Of course, I had to play with this right away. This bundle comes with a challenge I had to find out and it took me a little while to figure it out. This bundle set comes with stamps, two embossing folders and two frame dies. Probably by now everybody knows that Stampin'Up! has separated themselves from their old manufacturer and since this a new product, it has the new embossing folders from the new manufacturer. YOU WILL NEED THE NEW 3D Embossing Folder Plate to work with the new-style 3D embossing folders (which are thinner than the old-style Dynamic folders). AVAILABLE NOW!!!!! Visit my online store at http://crazyaboutstampin.stampinup.net to order yours!
After playing with what I had available at that time, I was able to shimmy the folder so that it makes a good impression. It took some playing with it. This card features the new Stampin'Up! colors as well. And as I already mentioned in my previous blog, I absolutely love the new colors. Below is an explanation on how to use the new embossing plate with the new Embossing folders.
How to Use the New Plate:
The new plate makes up the difference in measurement between our old-style Dynamic Folders and our new-style 3D Folders in 21 mm gap machines (similar to the machine we used to offer). The 3D Embossing Folder Plate replaces the Standard Cutting Pads in your 3D embossing folder sandwich for continued high-quality emboss results.
To create your emboss sandwich:
Use a die-cutting & embossing machine platform as a base; no matter which machine you're using, use the standard platform which comes with your machine.
Use the 3D Embossing Folder with your paper in the middle.
Then use the 3D Embossing Folder Plate on top.
Given the differences in machines and platforms, you may still have to add a shim to get your desired embossing results. (You can also spritz your paper before embossing to maximize your embossed impressions.)
Without the new 3D Embossing Folder Plate, you will need to use several shims with the Standard Cutting Pad in your 3D embossing folder sandwich, depending on the die-cutting & embossing machine you use. Most machines will need between three to five sheets of cardstock to shim. Please be careful in how you shim; start out with fewer sheets first, then add sheets to get your desired results. Stampin' Up! will not be responsible to replace products broken due to using a sandwich which is too thick for a machine.
Materials I used for this card:
Seaside Spray cardstock –
Terracotta cardstock –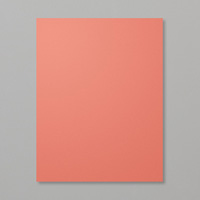 Whisper White Cardstock – #100730 – $9.75
Seaside Spray Ink – # 150085 – $7.50
Woven Heirloom Bundle – #151093 – $47.50
I used the Butterfly punch and some DSP I had leftover for the two butterflies I added to my card.
Shop my online store at http://crazyaboutstampin.stampinup.net for all your Stampin'Up! needs or message me for more information.